Painting portrays the priest anointing the symbol of the Hindu god Siva in rites sanctifying Jayavarman II as devaraja, or god-king.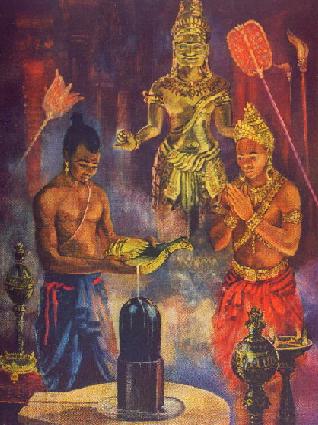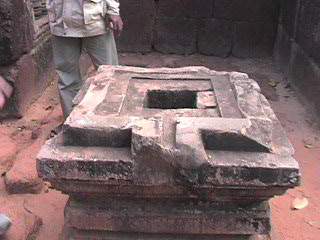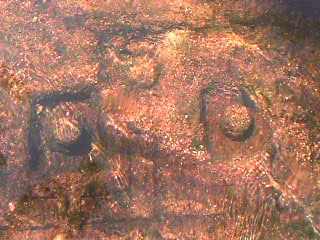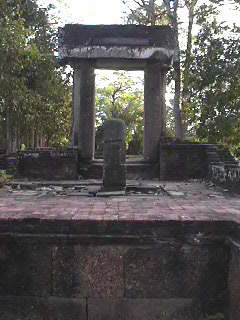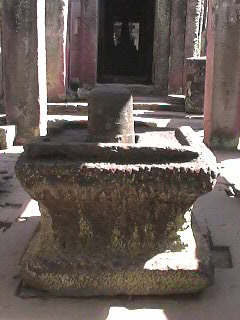 Jayavarman II was born around 770 AD, founder of the Khmer Empire and outstanding member of the series of rulers of the Angkor period (802 - 1431). Among Jayavarman II's accomplishments were the deification of the Cambodian monarchy, the establishment of the devaraja cult as the official state religion, and the reunification of the old kingdom of Chenla, which he expanded and formed into the Khmer Empire.

Possibly of Khmer descent, Jayavarman II came from Java, where he had been in captivity or exile, about 790 to succeed to the throne as Java's vassal. On the throne, he begun to conquer Land Chenla and Water Chenla. An unwilling puppet, he defied the Javanese and asserted Khmer independence in 802, when he declared himself cakravartin, or universal ruler on Phnom Kulen.

Since arriving from Java, Jayavarman II established a series of capitals, first at Indrapura, on the lower Mekong River east of Kompong Cham; then, moving northwards, at Hariharalaya, southeast of present-day Siem Reap; and then at Mahendraparvata, in the region just north of the Tonle Sap (Great Lake), not far from Angkor, the next seat of the Khmer Empire, which remained its capital for 600 years.

During his reign, Jayavarman built some monuments on Phnom Kulen: Prasat Khting Slap dedicated to Siva; Prasat Bos Nek, Chrei, Nak Ta, and Anlong Tom, all were dedicated to Vishnu; Prasat Kraham I, one of the best-known sanctuaries of Phnom Kulen, dedicated to the linga.

Jayavarman II died in 850 AD; he received a posthumous name Paramesvara (Supreme Lord). He was succeeded by his son Jayavarman III.
[Some inscription referring to King Jayavarman II]

"Then a brahman named Hiranyadama, skilled in magic science, came from Janapada, because H. M. Paramesvara had invited him to perform a ceremony that would make it impossible for this country of Kambuja to pay any allegiance to Java and that there should be, in this country, one sole sovereign, who should be cakravartin."

"Then H. M. Paramesvara came from Java to be Kurung in the holy city of Indrapura. The steng an Sivakaivalya, wise ancestor, was the guru, was the rajapurohita of His Majesty Paramesvara"

"Then His Majesty was Kurung on the site of the royal city of Hariharalaya. The steng an Sivakaivalya resided also in this city. As for his family, they were made pages of the King"